About Windowware Pro
Windowware Pro is a software program designed specifically for the window coverings industry. More specifically, window covering retailers. Our software allows window treatment companies to create professional estimates and quotes in the customers home with our cloud-based tablet driven software. You will also be able to manage all your job costing, schedule appointments, manage contacts, the workflow of jobs in progress and much more.
Who are the developers and what type of experience do they have?
An important question usually overlooked when making software decisions. Most professional software designers have little, if any, intimate knowledge of the industry they are about to create a website or software program for. Joe Mehm (left) however, has over 32 years of experience in the window coverings industry. Creating and operating multiple local retail operations during his first 13 years in the industry, Joe is also credited with major participation in establishing some of the largest Internet based sites such as Blinds.com, Blinds.net, BlindsWholesale.com, BuyRightBlinds.com and a few others. Possessing almost two decades of experience designing extremely detailed software systems, coupled with his previous retail experience results in a robust and intuitive system custom fitted to the window coverings industry.
---
More about Joe's History in the Window Coverings Industry:
The 1980's to Early 1990's
In mid 1984 I began my career in the window coverings industry as an installer for Tropic Verticals in Orange Park, Florida founded by Robert Till. Hired just prior to opening, I asssisted with setting up Tropic's vertical fabrication shop and then actively participated in fabrication, installations and some in-store selling. Rob, one of our founders and partners, and I remain friends to this day (as seen photo below).
A couple of years after expanding with a storefront in St. Augustine, Rob decided to concentrate on his original location and made me "An offer I couldn't refuse" on the south location. I took possession with no money down and paid off the entire amount after about 6 months as owner. (Photo on right of my first day of possession).
After building the operation for two years, and desiring to duplicate my success in a larger area, I sold Tropic Verticals for a substantial profit. It didn't take long before my new venture, "Mr. Blinds", became the largest retailer in the Gainesville, Florida market. Although enjoying 4-5 years of very profitable operations, the call of the ocean became too strong to resist, Mr. Blinds was sold and I returned to St Augustine.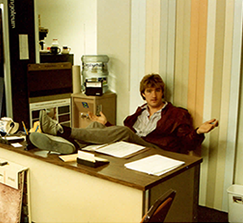 ---
Through the 1990's to Early 2000's
In the early part of the 90's as I was building another retail operation, others were creating online window coverings retail stores on something called the Internet. Sensing a need for a National Installer Network to work in conjunction with these new retailers, I built a database of approximately 900 installers nationally.
Apparently ahead of the curve, a frustrating year of effort was spent being rejected by the large catalog companies and Internet giants of the time in attempts to monetize the program.
Then realizing that the installer component was the hardest part of creating a "Total Solution" for home owners throughout the country, I launched my own site, BlindsWholesale.com in 1998.
Created and launched in 1998, BlindsWholesale.com was soon grossing over $300k a month. It wasn't long before someone made me "An offer I couldn't refuse". This time it was a sharp, energetic guy named Jay Steinfeld from Houston, TX. Jay and his investors purchased my main website, my rights to Blinds.com and all the other top level domains I owned like Blinds.net, Graber.com, HomeDecorating.com, FloorCoverings.com, etc. After taking a year or so vacation Jay retained me to assist with the build out of what would become the new Blinds.com website with my local programmers and data entry staff. After a couple years I moved on and we continued to remain friends.
Mid 2000's to Present Day
With smartphones increasing in popularity and their ability to help people accomplish more when out in the field, I asked myself "why not build a web-based estimating program? Something all dealers could use to make their life a little bit easier." That's when I decided to rework one of my eCommerce solutions and convert it into a dealer quoting system.
It's taken 9 full years to get this far. And I'm excited to say our all-in-one business solution is something that dealers across the country love to use. You will too!
---
Satisfaction Guaranteed!
Windowware Pro, Inc. wants you to be 100% satisfied. So there is never a contract to sign or huge upfront investment. Simply pay a small setup fee and your first month and you're all set. You are welcome to cancel at any time if our software doesn't fit your needs.



Thank You, Joe Mehm
Direct email: Joe@WindowwarePro.com